Removal of 5 bridges across the Amsterdam-Rhine Canal
DEMOLITION Projects |
Removal of 5 bridges
Could DDM remove five large arched bridges across the Amsterdam-Rhine Canal, of which the largest was 187 metres long and weighed over 2,090 tons? A heavyweight job, for sure. But not too heavy for DDM!
To avoid nuisance for the surrounding area as much as possible, each bridge had to be removed and replaced in a single weekend. Because of the tight planning, it was decided to use a very challenging method that would require the very maximum in effort and expertise of all parties involved.
As preparation, the asbestos was first removed, under the supervision of and with advice from DDM's specialists. Lifting cranes were placed on both sides of the canal. At the same time, the concrete road deck was removed from the static bridge ramp by cutting it into segments and hoisting them away. Part of the steel structure was removed too. This meant that over 560 tons of concrete and 236 tons of steel were removed, making the bridge light enough that it could be lifter from the water.
After it was shipped away, the bridge was lowered and placed on various supports. DDM had facilities available in Amsterdam for unloading the bridges. To transport the bridge there, the first arch had to be removed. Only then was the bridge low enough to be transported by water, underneath the other bridges crossing the Amsterdam-Rhine Canal.
Unloading began the moment it arrived in Amsterdam. The concrete road deck was sawed into pieces and lifted from the boat. All the concrete and steel were taken away. These materials were recycled in full at recognised disposal companies.
DEMOLITION
Location
Amsterdam Rhine Canal, Netherlands
Deployment
- 24 specialists
- Various cranes
- A number of pontoons
- Hydraulic lifting cranes of 200-500t
- Transport trailers
Size
819
ton material
Amsterdamsebrug
1740
ton material
Weesperbrug
2090
ton material
Loenerslootsebrug
1006
ton material
Overeindsebrug
1273
ton material
Breukelerbrug
Project duration
2 weeks
MATERIAL QUANTITY SURVEYING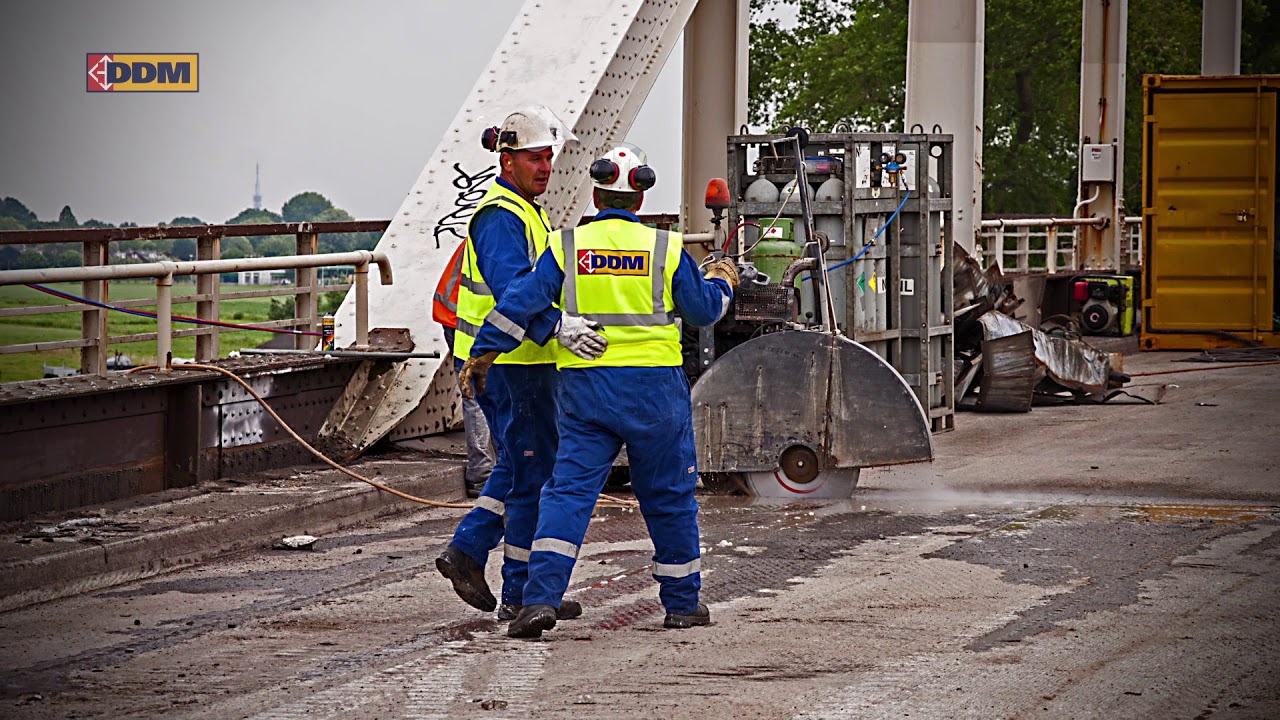 Safety First! Always.
The Quality and Health, Safety and the Environment policy is an ongoing process. That is why DDM is continuously working on improving all these areas to keep improving safety levels.
Find out more